Pediatric Endocrine evaluation of Marfan syndrome: A case report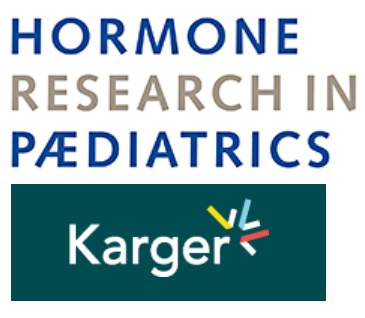 Poster Category  – Fat, Metabolism and Obesity
P2-122/ Pediatric Endocrine evaluation of Marfan syndrome: A case report
Diamanto Koutaki 1,2, Aikaterini Vourdoumpa 1,2, Ioanna Bacopoulou 1, Helen Fryssira 3, Evangelia Charmandari 1,2 & George Paltoglou 1,2
Division of Endocrinology, Metabolism and Diabetes, First Department of Pediatrics, National and Kapodistrian University of Athens Medical School, 'Aghia Sophia' Children's Hospital, Athens, Greece;
Division of Endocrinology and Metabolism, Center of Clinical, Experimental Surgery and Translational Research, Biomedical Research Foundation of the Academy of Athens, Athens, Greece;
Laboratory of Medical Genetics, National and Kapodistrian University of Athens, Athens, Greece
Background: Endocrine disorders associated with tall stature in childhood are frequently evaluated by Pediatric Endocrinologists. The most common non-endocrine genetic cause of tall stature, Marfan syndrome, is a rare autosomal dominant genetic condition of the connective tissue, which presents with specific dysmorphic features, including thin physique, long extremities and normal growth rate. Little is known regarding the association of Marfan syndrome with obesity, insulin resistance and adipose tissue function.
Case description: We present the case of a 10.38 year old boy with gradual weight gain since the age of 7 years. The past medical history revealed that he had undergone tonsillectomy and adenoidectomy due to episodes of severe sleep apnea. At initial presentation he was overweight (BMI: 24.3kg/m2, BMI z-score: 1.52), with 36.95 % fat mass and 59.86 % muscle mass in bioelectrical impedance analysis (BIA). His height was above the 97th centile and the respective parental target height, with an increased arm-span (+12.5 cm) and arachnodactyly. He was prepubertal. His bone age was advanced at 14 years. Endocrinologic evaluation revealed normal GH/IGF-I axis (GH suppressed to < 0.05μg/l on OGTT), normal thyroid function and homocysteine concentrations (3.9μmol/L) but elevated fasting insulin (37.73 μUI/mL) concentrations, and insulin resistance on subsequent OGTT (insulin 60'= 263.4μUI/ml). He had a normal karyotype, cardiology examination and MRI scan of the pituitary and adrenal glands. At 10.93 years old he developed idiopathic intracranial hypertension, treated with acetazolamide. Finally, at 11.09 years old, a heterozygous pathogenic variant in the gene of Fibrillin-1 (FBN1) (c.7039_7040delAT) and a variant of uncertain significance (VUS) in the Tenascin XB (TNXB) gene were detected (c.12350G>A) confirming the genetic diagnosis of Marfan Syndrome (OMIM 154700). At present, he is 15.27 years old, pubertal (testes 10-12ml), with low-normal testosterone concentration (free Testosterone 3.581 ng/dL), and normal AMH and Inhibin B (LH=3.1μU/ml, FSH=4.37mU/mL) concentrations. He remains obese (BMI: 29.7kg/m2; BMI z-score: 2.15; 36.26% fat mass; 60.62% muscle mass) with fatty liver disease and a lipoma of the right thigh. He is on metformin treatment and continues with a life-style intervention program.
Discussion: Marfan syndrome is rare, and has complete penetrance but highly variable expression. Little is known concerning the endocrine follow-up of these patients. The association between Marfan syndrome and insulin resistance is still not clear, however, experimental studies indicate a possible role of FBN1 mutations in adipose tissue physiology, especially adipogenesis that warrant further study linking FBN1 with increased adiposity.
Conference Proceedings / Horm Res Paediatr 2022;95(suppl 2):1–616, DOI: 10.1159/000525606